Le Lions Club Viaduc avait tenu tête au vent et à la pluie pour organiser un vide-dressing en octobre. Il s'agissait du premier événement vide-dressing organisé par le Lions Club Viaduc pour collecter des fonds et, malgré le temps exécrable, l'équipe a réussi à récolter 1.500 euros. Hier, le Lions Club Viaduc a remis le chèque à la Fondation Christoffel Blannenmissioun Luxembourg (www.cbm.lu). Ce don servira à la réalisation de projets visant à aider les personnes ayant une déficience visuelle dans les pays en développement et plus particulièrement en Angola, au Laos et à Madagascar.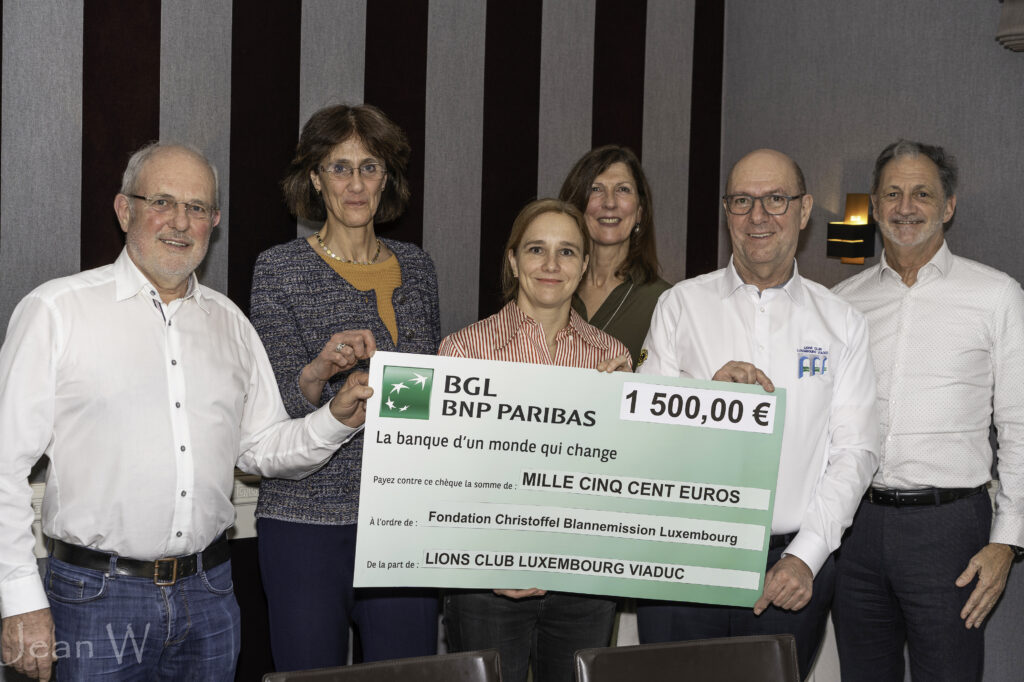 ——————————————————————————-
De Lions Club Viaduc Luxembourg iwwerreecht en Scheck vun € 1.500 un d'Fondation Christoffel Blannenmissioun
Den Lions Club Viaduc Luxembourg hat trotz Wand an Reen am Oktober en Vide-Dressing um Glacis organiséiert – den éischten vun dëser Zort fir dësen Club den fir gutt Zwecker Suen sammelt. Trotz dem extrem schlechten Wieder huet d'Équipe den Dag en Kollekte vun € 1.500 gemaach. Gëschter huet den Lions Club Viaduc en Scheck vun € 1.500 un d' Fondation Christoffel Blannenmissioun Luxembourg iwwerreecht. Dësen Don gëtt benotzt fir Projeten ze finanzéieren déi Leit mat enger visueller Behennerung an Entwécklungslänner ze hëllefen, an dat am Angola, Laos an Madagaskar.
——————————————————————————-
Lions Club Viaduc Luxembourg presented a cheque of € 1,500 to Fondation Christoffel Blannenmissioun
Lions Club Viaduc Luxembourg had braved wind and rain to hold a vide-dressing, a second-hand clothing sale, in October. It was the first such fundraising event organized by Lions Club Viaduc and, in spite of the dreadful weather, the team managed to raise € 1,500. Yesterday, Lions Club Viaduc presented the cheque to the Fondation Christoffel Blannenmissioun Luxembourg. The donation will be used for projects to help people with visual impairments in developing countries, particularly in Angola, Laos and Madagascar.